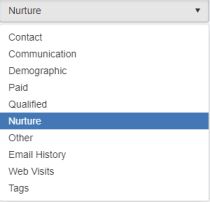 Email Campaigns Using Behavior-Driven Data
Several of our prior blog posts have focused on MediaView's powerful Nurture Email Manager tool. Automated campaigns that you create using this module makes it easy to create automated campaigns for Welcome/Onboarding, New Subscriber Promotions, Requalification and Re-Engagement type messages.
In order to more easily find the most commonly used behavior-driven fields, we have created a new grouping of database fields named Nurture.
Here's a sample of how you might use Nurture/Behavior-Driven fields in your automated campaigns:
Months Since Qualified: used to identify which subscribers should receive a Nurture requalification effort.
Days Since Last Open: identify those who are no longer engaging with your emails, prompting them to re-engage.
Days Since Date Added: identify appropriate time to send a welcome message or cross-sell promotion.
As always, contact us at support if you have any questions.