Integration with Google Analytics
Google Analytics - Messages & Forms
Did you know that the email messages you send through MediaView, as well as any subscription or renewal forms that CF has created and hosts for you, can be configured to be integrated with your Google Analytics?
When you create your messages in Email Manager you have the option to add Google Analytics tracking simply by clicking on a checkbox on the "Options and Schedule" tab.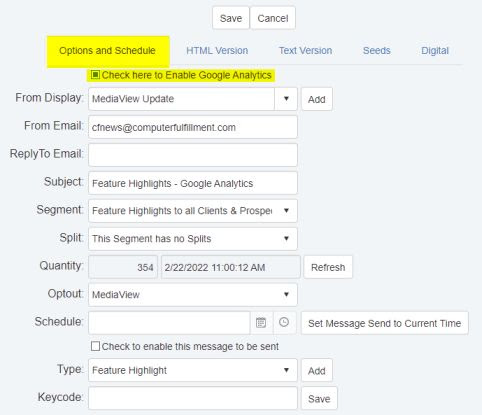 Two tips to keep in mind:
1. You must have an account set up with Google Analytics in order to see the results.
2. Should you employ any other form of tracking in your message links, be sure to turn off the Google Analytics tracking (uncheck the box). This is becoming more common with 3rd party or sponsored emails you receive from your clients.
We can also add your Google Analytics tracking code to online subscription or renewal forms that we create so that valuable information can be gleaned from those as well. Just send us the code and we'll add it for you.
Please do not hesitate to contact MediaView Support if you have any questions.