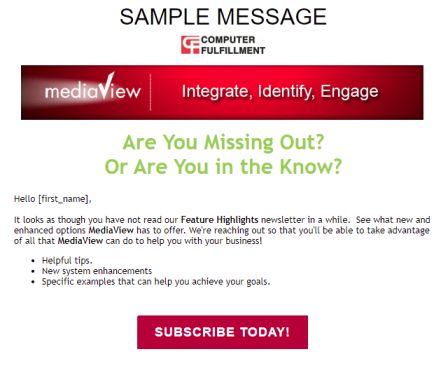 Nurture Manager & Re-Engagement
Hoping to connect with former customers? Using MediaView Nurture Email Manager you can easily automate re-engagement email campaigns and start bringing those customers back into the fold!
You'd start by creating a list of people from your database who have not engaged with you for some time and then set up a series of re-engagement email messages. Your initial message will be sent to your entire non-engaged list as it is on the first day of the program and then would be sent to new additions to your list at specified intervals. Subsequent messages can be sent to anyone who has still not re-engaged. This can all be accomplished via a one time set up of email messages and related segments/queries. Once you set everything up you can start the process and let it run through to completion.
Once the campaign begins, set your schedule to review the results on a periodic basis on the Nurture Email Manager dashboard.
Contact us at support if you have any questions.